With our lives always on the move, Google Workspace afords us the ability to get to our work where we want when we want.
Plans start at $8.00 per email address per month with access to our support.
We currently manage over 2,000 accounts.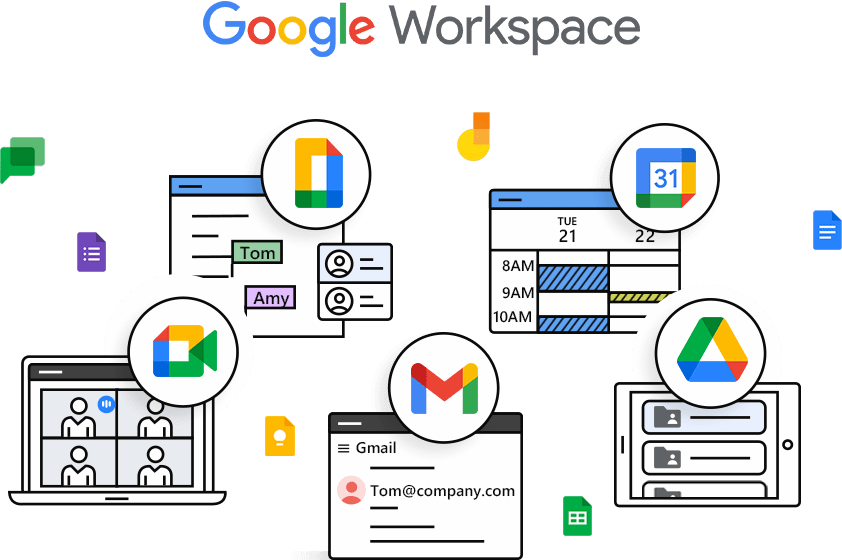 What do you want to do with Google?
Manage your business listing.
Have your documents available where ever you are?
Get emails to your phone?
Manage site pictures?
Google Drive
Store your files in Google Drive and have them available where ever you are.
Google Photos
Have your Google Photo account on multiple devices and share them across the whole Business as Albums.
Gmail
Drop Outlook and enjoy the benifts of emails where ever you are. Use Lables asnd Rules to get your emails sorted and have the importa ones at the top.
Google Maps & Business
Be found when people are searching on Google.
We help you take ownership of your listing on Google Search and Google Maps to make it easier for people to come to you.
Google Workspace
Google Workspace is a cloud-based productivity and collaboration platform that was formerly known as G Suite. It includes a suite of web-based applications such as Gmail, Google Drive, Google Docs, Google Sheets, Google Slides, Google Meet, and more. These applications are designed to help individuals, teams, and organizations work more efficiently and effectively.
Google Workspace allows users to collaborate in real-time, making it easy to share documents, presentations, and spreadsheets with colleagues or clients. It also includes tools to manage calendars, set up video meetings, and access files from anywhere, on any device.
One of the major benefits of Google Workspace is its cloud-based nature, which means that all data and files are stored in the cloud and can be accessed from any device with an internet connection. This makes it easy for teams to work together on projects, even when they are not in the same location.
Another benefit of Google Workspace is its security features. It includes several security measures such as two-factor authentication, data encryption, and compliance certifications to keep data safe and secure.
Google Workspace is available in various subscription plans, with different pricing options based on the number of users and the features required. It is used by millions of individuals and organizations worldwide, ranging from small businesses to large enterprises, educational institutions, and non-profit organizations.